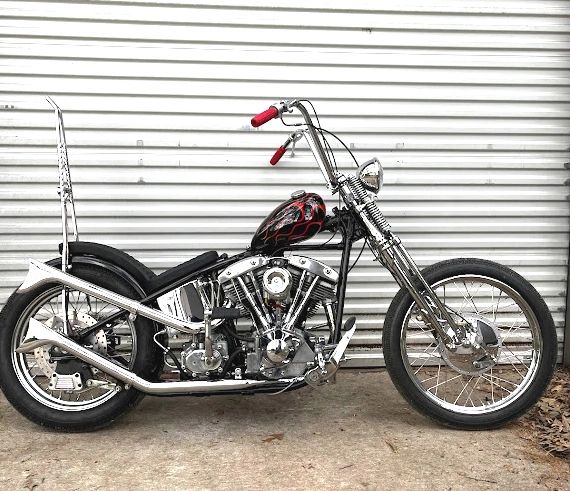 1974 Shovelhead Chopper
GIVEAWAY TIME! Freshly built, and titled 1974 Shovelhead. Each donation gets you one ticket on the draw. Buy as many as you like. $73 a spot, 300 spots. Free shipping in the continental US is included. International players are welcome, but must cover the additional shipping charges. Once all spots are filled we will do a live drawing on instagram to draw the winners. There will be three draws. First draw gets the bike. Second draw gets to chose one of the two, brand new, chrome Gusher Cycles handlebars shown. Third draw gets the other set of handlebars. For additional pics, updates, and videos keep an eye on our instagram page @gusher_cycles. We do not pull numbers out of our ass. Every part, and every hour of labor was documented as if we built this bike for a customer. The full price is based on parts, materials, and shop rate. This is what it costs to build this bike, nothing more, nothing less.
 The Bike - 100% built in house from the ground up. 1974, 74" Shovelhead in a hardtailed 1982 frame. Titled to the frame in my name as a 1982 FLH. Rebuilt motor top to bottom, new rods, bearings, .030 over pistons, lifters, gears, EVERYTHING. rebuilt heads with 3 angle valve job. Rebuilt rotory top, 4 speed transmission. Throttle Addiction hardtail with USA castings was used to on the OE 82 frame. New antique style +2" chrome springer from Mid USA. Replica chrome horseshoe oil tank. Narrow wassel gas tank with with fresh red flame paint job. Paughco 66-69 style upsweep pipes. Rear wheel is a dual flange hub laced to a 19" rim with stainless spokes. Front wheel is Hamburger drum machined for use on springer with all new internals and laced with chrome spokes to 21" rim. front brake actually works very well. New Shinko tires front and back. Diamond Nickel drive chain. Gusher Cycles Sissy Bar, Taillight. Custom made Flanders style risers for post mount springers. 11.5" GMA rear brake. Open Belt primary. Twisted foot pegs. Old Gold Garage seat. S&S Super E carb. Kick Only. All parts chromed, and powder coated locally. Tuned and ready to rip.