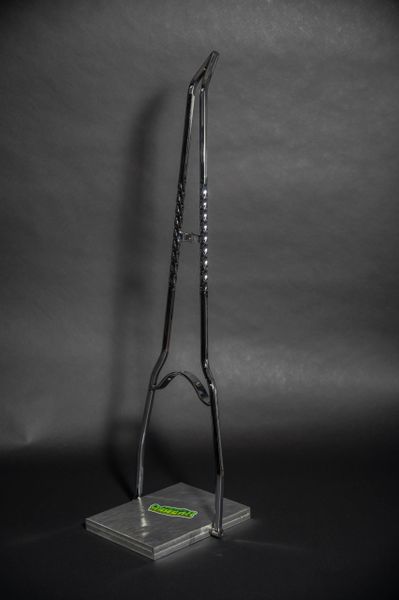 40" Chrome Sissy Bar
40" Chrome Sissy Bar for rigid choppers (measured from center mounting hole to top of sissy). Featuring a 9.5" inside mounting width to accommodate most rigid frames, heavy duty 1/4" x 1" arched fender support, and lengths from 40" through 52". PLEASE NOTE: Wee no longer use counter bored bungs for the lower sissy mounts (as seen in pictures), all sissy bars now come with upgraded hand machined socket style ends as seen in the last 2 pics. Considering the many different fender/tire options on the market, we have added some popular profiles and tire sizes to chose from. These are simply there to ensure we get the right fender mount profile, and height placement for your application. Each support has three slotted fender mount holes placed at the 10 o'clock, 12 o'clock, and 2 o'clock positions in order to be adapted to different fender profiles and mount positions. Constructed out of 5/8" cold drawn Rod in either twisted hex (pictured), non-twisted hex, or smooth round. Optional Taillight mount will accommodate any of ours, or "After Hours" style (and others) single bolt mount taillights through its 1/2" hole. These can be mounted at the bottom, center, or top position. Center mount is shown on the sissy bar displayed here. We prefer center, and top mounted lights as this allows enough room at the bottom to zip tie your tag vertically if you choose to. If you have custom specs in mind, just give us a call. 
As with all of our parts, these sissy bars are 100% hand made to order, in house. Typically ready to ship in 3-5 weeks from order date.