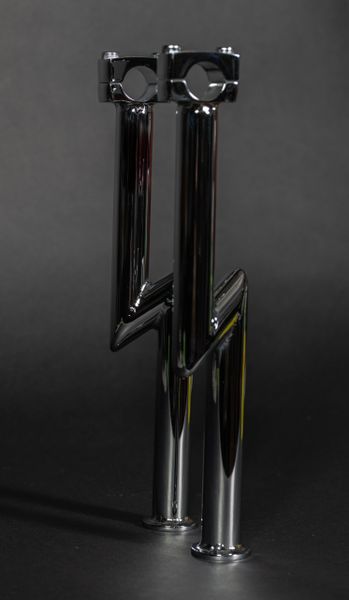 Bolt Risers
Bolt Risers now available in 6", 8", 10", or 12" rise. Rise height shown is 12" in first pics and 8 " on the last. These risers are designed to be universal to work with springers, and hydraulic front ends. 1/2"x20 threads. They are also modular, and can be set where they toe in for very narrow, or toe out for wider stance. 
Risers are handmade to order. Typical turnaround time is 3-4 weeks before shipment. Manufactured from U.S.A. made, 1" DOM steel with a thick .120" wall. 100% TIG welded. 
All of our parts are 100% made in America. Chrome parts feature a quality chrome finish, done locally in Nashville, TN before shipment.
 Gusher Cycles Handlebars are all radical "lanesplitter" type chopper bars, and much narrower than most standard bars. Be radical at your own risk.