Dunlop D402 MT90-16 BLK FRONT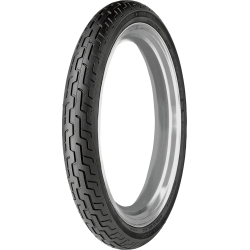 Dunlop D402 MT90-16 BLK FRONT
TOURING HARLEY-DAVIDSON® TIRE SERIES
D402 is a Harley-Davidson®​ co-branded touring tire made in the U.S.A.
- H-rated for speeds up to 130 mph
- Built with a three-ply polyester casing with two fiberglass belts, the D402 offers great load-carrying capacity, stability and long life
- Computer-optimized tread pattern with offset center groove improves ride confidence in all conditions and reduces cupping for long, even wear
- Available in blackwall (BLK), single white bar (SWS), narrow white bar (NWB) or wide white sidewall (WWW)
- Made in the U.S.A.
- Tubeless (TL)
!! Image is for viewing tread, actual width of tire is closer to 5 inches or a 130/90-16 !!