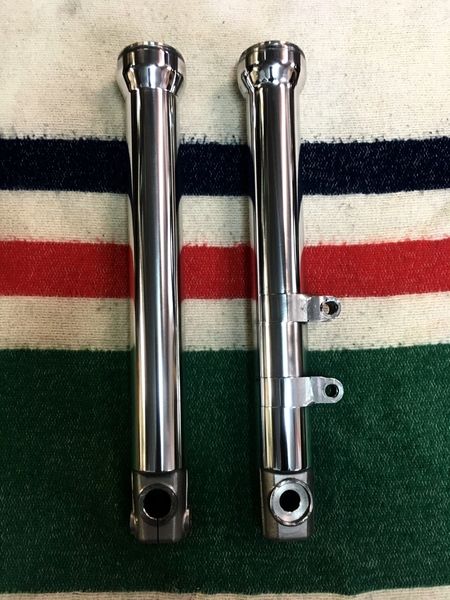 Fork Shave Service
We shave Forks! simply choose the options you would like, and send your lower legs to 
Gusher Cycles 
3458 OTT WILSON RD
SPRINGFIELD, TN 37172
All legs are turned precisely to a perfectly smooth, and round surface on our high quality lathes. please choose your options carefully in the dropdown windows to ensure you get the exact service you are looking for. The shipping calculated at checkout is for the return shipping back to you once the legs are done. Usually about a two week turnaround time. A standard shave is most economical. This means both legs are shaved leaving no brake or fender tabs, the fork oil drain holes are left unaltered, and comes in a smooth raw finish. each additional option takes more time to execute so there is a fee. 
*Brake = chose how many, if any brake tabs you would like left on the legs.
*Drain Holes = chose weather you would like us to weld up the drain holes and machine them smooth, or leave the drain holes as they are.
*Finish = chose whether you would like a smooth, raw machined finish, or if you would like us to do a quick shine polish. Our quick shine consists of a four stage manual hand sanding up to 1000 grit, and a two stage wheel buff for a nice medium shine.
NOTE; the 39mm legs pictured here are "leave one brake", "weld and shave the drain holes", and "quick shine"