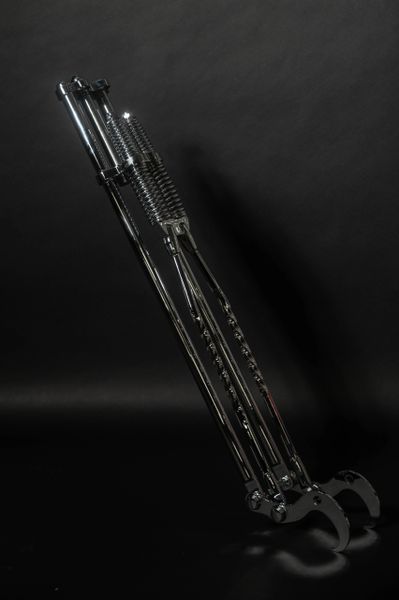 Springers
 The Gusher Cycles Springer is our Head Hancho. We love springers, and we spare no expense when it comes to the quality and construction of ours. The rear legs are made out of 1.125" (1-1/8") diameter solid round bar. Rockers made of .375" (3/8") thick plate with an integrated trunnion style bushing design. The front legs come in your choice of twisted hex rod (pictured), non-twisted hex, or smooth round bar. All of the bushings are hand fitted, and made of high quality 932 bronze. The triple trees feature counterbored handlebar and headlight mounts for a flush, clean look. All springers come with quality, MADE IN THE USA springs. Our axles and springrods are made of hardened 4140 chromoly. Designed to perform, and handle a beating. As with all of our parts, springers are made with love, in house, the old fashioned way using manual machines, and "hand crafted" techniques. When we say handmade, we mean handmade. We do not use any computer controlled (CNC) machines. Due to the extensive amount of work it takes to produce this design it typically takes 3 weeks for fabrication, and 2 weeks at the chrome shop. these times may vary depending on work load.

SPRINGER SPECS:
Style - In line
Neck Stem - 1" for Harley Big Twin frames, and 82' later sportster frames with up to 7.25" distance between the lower and top trees (custom neck sizes available by phone order)
Axle Size - Our axle holes are drilled to your provided spec on each build
Width - Rear legs are 5" on center, 3.875" between legs, 6.125" between rockers
Handlebar Mounting Width - All of our top trees have counter bored riser mounts that are 3" on centers
SPRINGER LENGTHS, AND ORDERING:
    Our Springers are measured from the top of the bottom tree (where your lower neck bearing seats) to the center axle hole. If you know what size you need for your application you can simply choose your specs and slam that "ADD TO CART" button.  If you have questions about LENGTH, RAKE, and TRAIL, or would simply prefer to talk to a live Dude on the phone to order, please do! We are more than happy to take your custom specs, lengths, etc.. 615-647-7818
SHIPPING
  We ship world wide. For all US Springer orders we charge a flat rate shipping cost of $100. This includes a very meticulous packaging and actual cost of shipping. If you are outside of the US please contact us for a shipping cost. If you are nearby, and would like to pick it up when finished choose "pick up in person" at checkout.
Thank you all! - J Ryan